If you're planning a trip to Vanuatu, Taxi from Vanuatu Bauerfield Airport to Port Vila is one of the most convenient and efficient options to start your journey in Vanuatu! You'll likely arrive at the Bauerfield International Airport, which is located just outside of Port Vila, the capital city. Once you arrive at the airport, you'll need to find a way to get to Port Vila and is to take a taxi.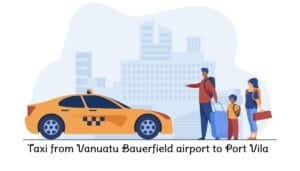 How to reach Port Vila from Bauerfield International Airport, Vanuatu?
A taxi from Vanuatu Airport to Port Vila is a great way to get to your destination quickly and comfortably. Taxis are readily available at the airport, and you can expect to pay around 2,000 to 3,000 Vatu (about $20 to $30 USD) for the approximately 10-minute ride to Port Vila.
Taking a taxi is a great option if you have a lot of luggage or if you're traveling with a group. You can also avoid the hassle of navigating public transportation or haggling with local drivers.
The alternative option is to arrange a Taxi from the Resorts that you book for your Stay. The cost of taxies arranged via hotels/resorts would be 2x times higher than the normal costs.
Where to find a Taxi in Port Vila, Bauerfield International Airport, Vanuatu?
When you arrive at the airport, you'll find taxi stands just outside the arrivals area. There may be multiple taxi companies offering services, so it's a good idea to compare prices and choose the best option for your needs.
One thing to keep in mind is that taxis in Vanuatu are not metered, so it's important to agree on a price with the driver before you begin your journey. You may also want to confirm the price with the driver again before you get into the taxi to avoid any confusion.
If you're worried about safety, rest assured that taxis in Vanuatu are generally safe and reliable. However, as with any destination, it's important to take common-sense precautions, such as ensuring that the taxi is clearly marked as a taxi and avoiding unmarked or unlicensed vehicles.
Conclusion-
taking a taxi from Vanuatu Airport to Port Vila is a convenient and efficient option for travelers. With a little bit of preparation and research, you can ensure that you get to your destination safely and comfortably.
1,262 total views, 7 views today